by J. C. Ryle
About Thoughts for Young Men: "When St. Paul wrote his Epistle to Titus about his duty as a minister, he mentioned young men as a class requiring peculiar attention. After speaking of aged men and aged women, and young women, he adds this pithy advice—"Young men likewise exhort to be sober minded" (Tit 2:6). I am going to follow the Apostle's advice. I propose to offer a few words of friendly exhortation to young men.
I am growing old myself, but there are few things I remember so well as the days of my youth. I have a most distinct recollection of the joys and the sorrows, the hopes and the fears, the temptations and the difficulties, the mistaken judgments and the misplaced affections, the errors and the aspirations, which surround and accompany a young man's life. If I can only say something to keep some young man in the right way, and preserve him from faults and sins, which may mar his prospects both for time and eternity, I shall be very thankful.
There are four things which I propose to do: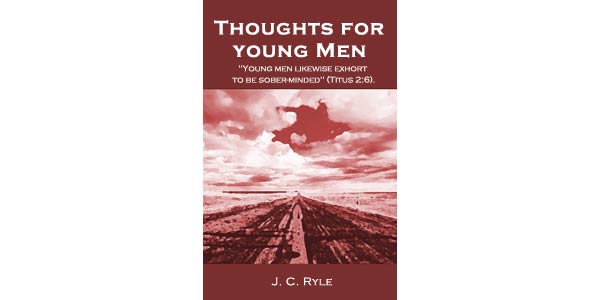 I. I will mention some general reasons why young men need exhorting.
II. I will notice some special dangers against which young men need to be warned.
III. I will give some general counsels, which I entreat young men to receive.
IV. I will set down some special rules of conduct, which I strongly advise young men to follow.
On each of these four points, I have something to say, and I pray God that what I say may do good to some soul.
John Charles Ryle (1816-1900) began his service to the Lord as a minister of the gospel in parish churches within the Church of England, for almost forty years. He then became Bishop of Liverpool in 1880, and came to international prominence as preacher, Bible expositor, and author. Today he is best known for his plain and lively writings on practical and spiritual themes, in a style deliberately used to reach ordinary people. His great aim in all his ministry was to encourage strong and serious Christian living. His tracts and books sold in the millions in the late 1800s, and many have been republished in modern times. Ryle's successor as Bishop of Liverpool commented, "The words of such a man acquire new force as we read them. Ryle lived near God, and God lived through him."
-----
TABLE OF CONTENTS
Reasons for Exhorting Young Men
Dangers of Young Men
General Counsels to Young Men
Special Rules for Young Men
Conclusion