I cannot overstate the importance of these books for an understanding of God's free grace in Christ for our salvation. All Christians should take the time to study and understand this topic. Here are some good resources to start with.
The Bondage of the Will, Martin Luther
A must-read book for all those interested in grace and salvation. A truly magnificent classic book. The Bondage of the Will is fundamental to an understanding of the primary doctrines of the Reformation. In these pages, Luther gives extensive treatment to what he saw as the heart of the gospel. Free will was no academic question to Luther; the whole gospel of the grace of God, he believed, was bound up with it and stood or fell according to the way one understood it. Luther affirms our total inability to save ourselves and the sovereignty of divine grace in our salvation. He upholds the doctrine of justification by faith and defends predestination as determined by the foreknowledge of God. (Free eBook here)
Bondage and Liberation of the Will by John Calvin
One of our favorite books of all time. This volume provides Calvin's fullest treatment of the relationship between the grace of God and the will of man. It offers insight into Calvin's interpretations of the church fathers, especially Augustine, on the topics of grace and free will and contains Calvin's answer to Pighius's objection that preaching is unnecessary if salvation is by grace alone. This important work, edited by renowned scholar A. N. S. Lane, contains material not found elsewhere in Calvin's writings and will be required reading for students of Calvin and the Protestant Reformation.
A Treatise on Grace and Free Will by St. Augustine (eBook)
Astounding in it's simplicity & depth - the doctrines of grace did not start with Luther or Calvin. Augustine's work is a classic treasure and in spite of the difficulty of the question a very good read. More more on Augustine's teaching on grace and free will read The Silver Thread: Augustine vs. Pelagius in Church History (free eBook) "To will is of nature, to will aright is of grace." - Augustine.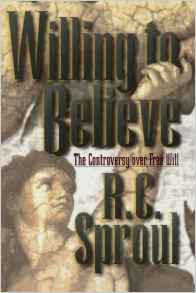 Willing to Believe by R.C. Sproul
What is the role of the will in believing the good news of the gospel? Why is there so much controversy over free will throughout church history? R. C. Sproul finds that Christians have often been influenced by pagan views of the human will that deny the effects of Adam's fall. In Willing to Believe, Sproul traces the free-will controversy from its formal beginning in the fifth century, with the writings of Augustine and Pelagius, to the present. Readers will gain understanding into the nuances separating the views of Protestants and Catholics, Calvinists and Arminians, and Reformed and Dispensationalists. This book, like Sproul's Faith Alone, is a major work on an essential evangelical tenet. -- This book was extremely helpful on this topic.
Freedom of the Will by Jonathan Edwards
Considered Edwards' finest work, the treatise is a monument of American philosophy, noted Christian History magazine (Vol. 4, No. 4, p.19). They continue, "In this treatise Edwards painstakingly shows that man is indeed free... but that God is still sovereign and still solely responsible for man's salvation. Edwards tries to show that a sinner and humans, in the Calvinist tradition, come into the world under the curse of Adam would never by himself choose to glorify God unless God himself changed that person's character. Regeneration, God's act, is the basis for repentance and conversion, the human actions." A detailed, careful, and strongly Calvinistic look at this important question. (Free eBook here)
What about Free Will?: Reconciling Our Choices with God's Sovereignty
by Scott Christensen
Christensen explains two views that acknowledge God's sovereignty and its relation to human responsibility: compatibilism and libertarianism. Providing cogent, biblical answers, Christensen argues for compatibilism and shows how it makes sense of evil, suffering, prayer, evangelism, and sanctification. You will gain a deeper understanding of both arguments, as well as a greater appreciation for the significant role that choices play in God's work.
------
Related Resources (free)
Free Will Survival Guide (Key Resources) @Monergism
The Doctrine of the Will (eBook) by William Cunningham
Augustine & The Pelagian Controversy (eBook) by B B Warfield
Does Man Have a Free Will? by John Calvin