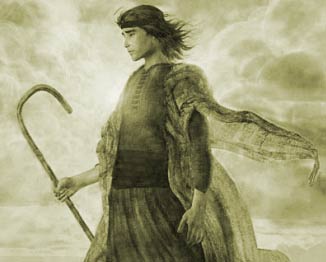 And God sent me before you to preserve for you a remnant on earth, and to keep alive for you many survivors. So it was not you who sent me here, but God. He has made me a father to Pharaoh, and lord of all his house and ruler over all the land of Egypt. Gen. 45:7-8
For the last few days I have been reading the Genesis story of Joseph to my 6 year old son and pointed out that there were many similarities (or types) in the stories between Joseph and Jesus. On our way to the bus stop we talked about the Scripture that shows where both of them were betrayed, and my son quickly responded by declaring that God also brought about a good outcome through that same betrayal. I was delighted to see that he made this connection. In both cases God intended that the evil choices of men would be the means to bring about deliverance for His people. Joseph was a type of Christ in that he suffered unjustly by his brethren and then ended up saving many of the very people who originally intended to do him harm.
I often use passages such as Genesis 50:20 as well as Acts 2 & 4 in theological debates to show God's meticulous providence that he can even ordain evil to bring about a good purpose.
"As for you, you meant evil against me, but God meant it for good, to bring it about that many people should be kept alive, as they are today." - Gen 50:20
this Jesus, delivered up according to the definite plan and foreknowledge of God, you crucified and killed by the hands of lawless men." - Acts 2:23
"...for truly in this city there were gathered together against your holy servant Jesus, whom you anointed, both Herod and Pontius Pilate, along with the Gentiles and the peoples of Israel, to do whatever your hand and your plan had predestined to take place." Acts 4:28
But it dawned on me that these passages are connected vitally in another, more important way. Jacob's beloved son Joseph (his firstborn by Rachel) is sent out to retrieve his brothers and is hated & betrayed by them (Gen 37) which prefigures Jesus with an undeniable historical type.
What else can be said of Joseph? Joseph is tempted but does not sin (Gen 39), is accused and condemned on false charges (Gen 39), is raised up to the right hand of Pharaoh and, as predicted, the people "bow the knee" to him as he becomes the savior of "all the earth" (Gen 41:37-56), and he forgives and restores his sinful brothers, making them citizens of his kingdom (Gen 46-50). Does any of that story sound familiar to you?
I came across a piece by Pastor Nick Batzig who said of Joseph:
"Undergoing a series of deaths and resurrections, Joseph typified the "sufferings of Christ and the glories to follow" (1 Peter 1:10-11). He was envied and hated by his brothers, suffered at their hands and was exalted to a place of power over the most powerful nation of the world. Jesus, the greater Joseph, was envied and hated by His countrymen and brethren, murdered by them and then exalted to the highest place of power and honor to save the world by feeding them with the rich granaries of heaven."
Exactly, Joseph was the instrument God used to dispense bread to the world in time of famine. Likewise Jesus is the "Bread of Life" who dispenses the True bread for the life of people from every tribe, tongue, people and nation. (John 6:35, Rev. 5:9)
There are many other typological connections between Joesph and Jesus (which I will link to below) but I want to first point out what an encouragement to the faith of believers is the study of types on the Old Testament. The sheer number and relevance of the types are uncanny and they confirm that they are no mere coincidence. God's covenantal structuring of redemptive history gives people, places, and events to prefigure the coming Christ.
Below I have provided links to some good resources which go into a great deal more detail on Joseph as a type of Christ as well as some excellent resources on typology in general.
-----
Joseph, a Type of Christ
Joseph and Jesus (.pdf)
by A. W. Pink
Joseph as a Type of Christ
Bible History
Was Joseph a Type of the Messiah? Tracing the Typological Identification between Joseph, David, and Jesus
by James Hamilton

"One day God would send another Prince, a young Prince whose heart would break. Like Joseph, he would leave his home and his Father. His brothers would hate him and want him dead. He would be sold for pieces of silver. He would be punished even though he had done nothing wrong.But God would use everything that happened to this young Prince – even the bad things – to do something good: to forgive the sins of the whole world."
- Sally Lloyd-Jones, The Jesus Story Book Bible

Typology in General
The Typology of Scripture (eBook)
by Patrick Fairbairn
Christ in the Old Testament:: Biblical Metaphor & Typology (MP3)
by Edmund P Clowney
Tropologia: A Key To Open Scripture Metaphors (eBook)
by Benjamin Keach
Can you list the fulfilled prophecies, typologies, shadows, allegories, and illusions to Christ In the Old Testament?
by Reformed Answers
Grace and Truth: The Glory and Fulness of the Redeemer Displayed
by William M'Ewen
Typological Writings
by Jonathan Edwards
-----
More on Typology at Monergism.